A growing number of people are using key Fob door entry systems because of its ease of use, bsecurity features, and remote control capabilities. By doing away with the need for conventional keys, these systems provide a more contemporary and efficient method of access management.
Keyless Entry System History
Since their introduction, keyless entry systems have advanced significantly. When car manufacturers began experimenting with electronic key fobs in the 1980s, this industry saw its earliest breakthroughs. Keyless entry systems have been incorporated into a number of industries throughout the years, including the automobile, residential, and commercial sectors, thanks to technological improvements.
key Fob Door Entry System Components
A number of parts come together in keyless entry systems to provide smooth access control. Key fobs, control modules, and sensor-equipped door locks are the main parts.
Key fobs are little, portable gadgets that send signals to the control module to start the locking or unlocking mechanism. After receiving and processing these signals, control modules make sure that encryption and authentication are in place to stop unwanted access. Sensor-equipped door locks recognize when the key fob is close by and activate the locking mechanism appropriately.
key Fob Door Entry System Types
Keyless entry systems come in two primary varieties: passive keyless entry (PKE) systems and remote keyless entry (RKE) systems. The vehicle or building must be unlocked or locked using a remote keyless entry device that requires human interaction. To initiate the desired operation, the user must press a button on the key fob to send signals to the control module.
Conversely, passive keyless entry systems provide a hands-free method of access control. Proximity sensors are used by these systems to determine whether the key fob is within a specific range. The doors automatically unlock when the key fob comes into range, making entry simple and button-free.
Keyless entry systems come in a variety of configurations for both home and business use. Since technology has come a long way in the last ten years, you have a plethora of options to choose from when looking for improved home or office security systems. Locksmith On Wheels provides installation and maintenance services for all keyless security solutions available in the market. The most popular keyless access control devices are represented by the following items:
RFID Proximity Locks:
These locks read an access key or key fob using an RFID reader that is placed close to the entrance. For multi-layer security in homes or offices, a great deal of data can be encoded into both cards and fobs.
PIN/Keypad Readers:
PIN readers are a common choice for many small workplaces and dining establishments. They have been around for a long. The device's keypad requires the user to input a PIN in order to obtain access. When necessary, the property owner can update and modify PINs to maintain the highest level of security.
Biometric Devices:
Integrated into many public, government, and correctional facilities, biometric devices are extremely secure and high-tech. They work by using a participant's fingerprints, irises, or facial traits to identify them.
Video Card Devices:
Standard key-card systems coupled with live-streamed, high-definition video are used by many major corporations and military locations to monitor the entryways anytime someone tries to gain admission.
Wireless Door Locking Systems:
These so-called wireless systems work with a smartphone app or a key fob. That manner, a door that has a smart-lock device installed can be accessed by residents or staff members using just their phones.
Functions of Keyless Entry Systems
Secure access control is made possible by the sequential stages that keyless entry systems follow. The key fob sends a distinct signal to the control module when the user pushes a button on it or gets close to it.
After receiving the signal, the control module uses encryption and authentication to confirm that it is authentic. This guarantees that the system can only be unlocked by approved key fob door entry. The control module instructs the door locks to lock or unlock in accordance with the user's request after the signal has been verified.
key Fob Door Entry Systems' advantages
Because they provide so many advantages to users, key fob door entry systems are a popular option in today's society. Among the principal benefits are:
Convenience and usability: Keyless entry systems make it possible to enter cars and buildings quickly and easily by doing away with the need for traditional keys.
Enhanced security features: Unauthorized users find it more difficult to access these systems because they use sophisticated authentication and encryption techniques.
Functionality for remote control: A lot of keyless entry systems have extra capabilities like remote start or remote trunk release, which give users more convenience and freedom.
Typical Problems and Solutions
Although keyless entry systems are generally dependable, problems can occasionally arise. Signal interference, battery-related concerns, and the requirement for system resets or reprogramming are a few typical issues. Users may secure the smooth operation of their keyless entry systems by using troubleshooting techniques and maintenance suggestions to help them fix these issues.
Upcoming Changes in Keyless Entry Devices
Keyless entry systems appear to have a bright future ahead of them, with constant advancements planned to boost convenience and security. More research is being done on biometric authentication techniques, including iris or fingerprint scanning, to increase access security. Controlling entrance systems and other linked devices is also made easy by integration with smart home technologies.
What Keyless Door Entry Systems Are Not
If you ask someone what they know about keyless entry cars, they will most likely indicate their own vehicle. Modernized models now come with a radio frequency IDentification (RFID)-enabled fob in place of the conventional key-and-lock setups. The RFID-enabled fob still functions as a kind of "key." Using a digital frequency, car-based systems are activated. Most crucially, the car won't start if the fob is lost. It's also a setup that can be taken advantage of.
Keyless Entry Locks and the Innovative Digital Age
Using Bluetooth technology, FLEXIPASS establishes a mutually authorized link between the "smart" door lock and any mobile device, including smartphones. This connection is safe and fully encrypted. FLEXIPASS was connected with top door lock and access control companies worldwide, including ASSA ABLOY Global Solutions, Dormakaba, and SALTO. This guarantees security and future upgradability as well.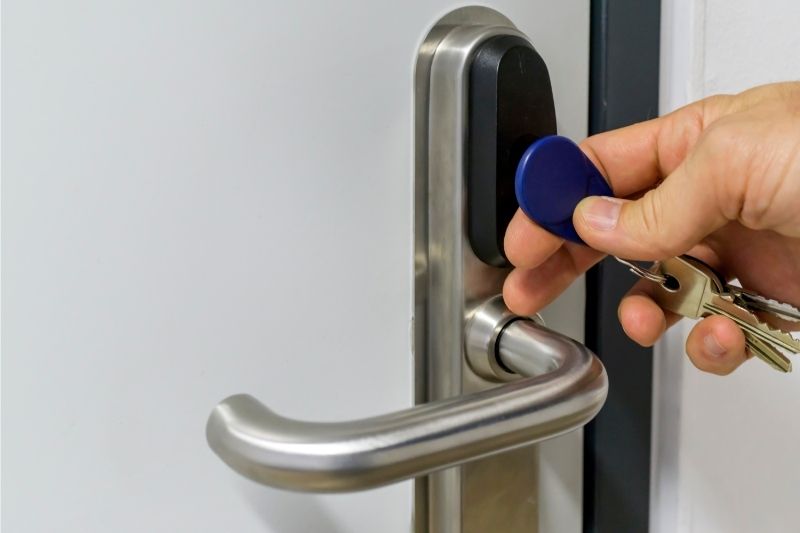 Because of this, using FLEXIPASS technology only requires your phone; a key is not needed. Through their proprietary system, the hotel owner, building supervisor, etc., controls and authorizes access. A keypad door keyless entry system or an aftermarket system cannot duplicate these levels of protection. Working directly with the FLEXIPASS team is advised if you want to safeguard your investment and fully utilize these innovative features.
Applications in Industry with Keyless Entry
As you can see, FLEXIPASS keyless entry systems have a wide range of real-world uses. These days, FLEXIPASS is used by partners such as hotels, hostels, serviced apartments, condos, and other homes under property management supervision, as well as student housing at universities and colleges. Real estate and the hotel sectors are fiercely competitive. Genuine digital keys, which don't require extra hardware, are a quick method to show your visitors and tenants that you are trustworthy and that security is heightened.
A key Fob Door Entry Lock Does Not Require a Key
If you use them in your organization, you open yourself up to illegal access. Access via the keyless front door is limited to visitors who have been pre-approved and screened. The person in control has the authority to restrict or cancel this access at any moment, as well as modify it based on other significant variables like the time of day. In the post-COVID age, hotel guests can check in and proceed to their rooms without losing their key or card, ensuring everyone's safety.
In summary
Access control has been transformed by keyless entry systems, which provide improved security, ease of use, and remote control capabilities. Gaining knowledge of the parts and ideas that make these systems function gives important insights into their features and advantages. Keyless entry systems are expected to develop further as technology progresses, offering even more user-friendly and secure access options.
Check Also : Doors and Windows Designs Inspiration
Visited 5 times, 1 visit(s) today