Intuit merchant services For decades, Intuit has been the name in small business accounting, but many businesses are now looking for a QuickBooks alternative. While intuit merchant services remains the industry standard for desktop accounting software, some users find its online service to be clumsy and unintuitive. The current business owner is cloud-based. Everything you need is available online, from web pages to social profiles to online businesses. In fact, it is quite conceivable for a company to exist without even having a physical presence!
Why is it so pricey?
It's all about the tiers and markups. Alternatives to Intuit Merchant Services exist, but they are underutilised – many merchants believe Intuit is their sole option for credit card processing. As a result, Intuit Merchant Services typically offers its customers a three-tiered pricing structure. A three-tiered approach, in essence, groups all 350+ varieties of credit cards available into three categories, each with a defined price. (While Visa and MasterCard assign actual prices to credit cards, processors are permitted to mark those costs up as they see fit.)
However, the pricing is never close to an average cost; it's always jacked up, so the processor using that charge structure (whether Intuit or someone else – it's not just Intuit Merchant Services doing this) stands to profit handsomely. However, because it is simple, it is believed to be better – especially when dealing with something as generally difficult as payment processing.
The Intuit Merchant Services tiers are as follows:
QUAL stands for qualified transactions. This level is allocated for debit cards, which have a fixed fee of only 0.05%.
Intuit Merchant Services normally charges around 1.5%, but can go as high as 1.69%. That is, if you accept a $5,000 QUAL transaction, Intuit receives $2.50 from Visa or MasterCard and charges you between $75 and $84.50.
Mid-qualified transactions (MQUAL)
This tier is reserved for other consumer-type credit cards and rewards cards with annual fees ranging from 1% to 1.5%. Intuit Merchant Services normally charges a fee ranging from 2.5% to 2.69%. That means that if you accept a $5,000 MQUAL transaction, Intuit will pay Visa or MasterCard between $50 and $75, and you will be charged between $125 and $134.50.
Non-qualified transactions (NQUAL)
This tier is reserved for business-type rewards cards, corporate cards, and government purchasing cards, which have predetermined costs ranging from 1.9% to 2.6% and are charged between 3.4% and 3.96% by Intuit Merchant Services. This means that when you accept a $5,000 NQUAL transaction, Intuit is required to pay Visa or MasterCard between $95 and $130, but you are charged between $170 and $198. To summarise, Intuit (or any other company employing a three-tiered pricing scheme) must pay Visa and MasterCard a fee to process a specific credit card.
They charge you that price and mark it up significantly – but you'd never know unless you knew the set prices of all kinds of different credit cards. With fees as high as they are, it's no surprise that so many merchants are looking for alternatives to Intuit Merchant Services.
Looking for Intuit Merchant Services Alternatives?
For merchants seeking for alternatives to Intuit Merchant Services, cost is a major consideration. Century addresses this issue by providing a QuickBooks credit card processing module with the same processing features as Intuit Merchant Services users are accustomed to. Users of Century's module (as well as Intuit's) can take electronic payments at any (or all) of the following four sales stages:
Payments Received Sales Order Sales Receipt Invoice
Century's credit card processing engine then recognises your selected invoice(s) as paid and balances Accounts Receivable (AR) and the General Ledger (GL) for you, saving you time at the end of the day. However, if you are unfamiliar with how QuickBooks credit card processing works, you will be relieved to find that it also makes life easier before the end of the day.
Intuit Merchant Services Alternatives
Time is money
Your current processing procedure could be as follows:
Go to your credit card machine (which might be on the other side of the office).
Enter your customer's details; save the receipt that the printer produces.
Print your customer's invoice and attach the receipt to it.
Make a stack of these invoice-receipt combinations on your desk.
Return to QuickBooks when you have time (or at the end of the day) and manually mark all of the invoices as paid.
As you can see, there is a lot of rushing and double-entry work going on here.
Instead, your daily procedures with Century's QuickBooks payment processing solution would look like this:
Enter a customer's payment details directly into QuickBooks – Century's integrated module promptly processes the transaction, marking the invoice as paid and balancing the GL.
Is There a Catch, though?
It's a good question, but there isn't one. We offer a more affordable QuickBooks payment processing module than Intuit because we can optimise interchange levels on business-type credit cards and government spending cards, allowing us to offer lower base costs than Intuit (to say nothing of the markups).
Substitutes for intuit merchant services
The following are some of the advantages of processing credit cards with Century Business Solutions:
A free QuickBooks payment processing module.
Discounts on company credit cards, corporate cards, and GSA cards.
Installation, maintenance, and support are all free for the duration of your subscription.
A Customer Support Team based in Irvine, California that is available 24 hours a day, seven days a week.
A Chargeback Management Team that will call and notify you of a chargeback within 24-28 hours.
Fees are only charged once a month. (Intuit occasionally deducts tiny fees from each daily batch, causing numbers to be inconsistent and adding up quickly over the course of a month.)
Our back-end virtual gateway, which includes more than 45 distinct search possibilities and pre-populated reporting options.
There is a mobile app available, which is ideal for trade exhibitions and other on-the-go purchases.
Top 14 Best intuit merchant services of 2022
ZipBooks is straightforward accounting software that makes you wiser. ZipBooks is built with a clean and easy interface for small business owners and accountants. Users can automatically import transactions by connecting their bank accounts and payment processors. Then, ZipBooks machine learning automatically categorises transactions to expedite reconciliation—and the more you use the software, the smarter it becomes!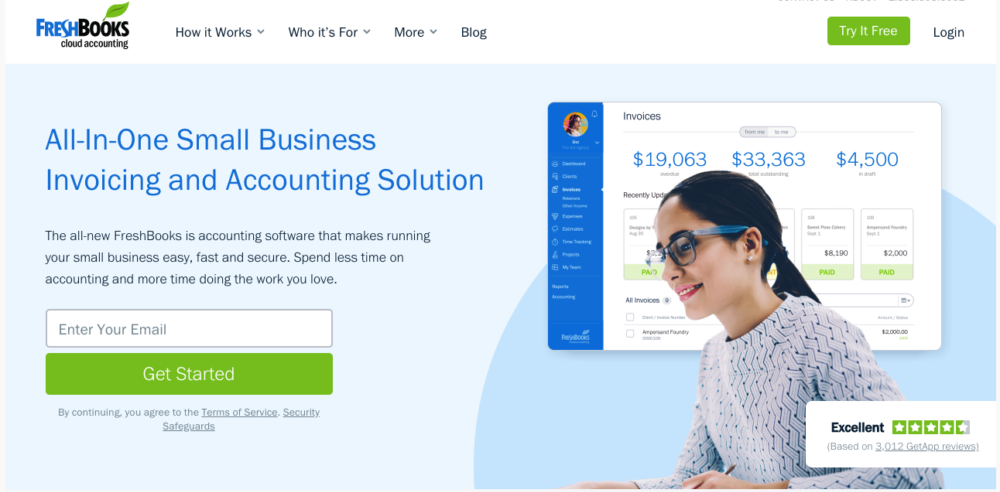 FreshBooks is an all-in-one accounting and invoicing system that makes running a small business simple, quick, and secure. It automates operations such as billing, expense management, time tracking, and client follow-up using a cloud-based platform and mobile apps. Pricing tiers are depending on the total number of billable clients, and a free 30-day trial is available. You may also customise programmes to add more team members (for a fee of $10 per person).

Most freelancers despise accounting because their records are in disarray. You can count on Hectic to keep your money in order. Hectic's painless accounting software makes it simple to remain on top of every financial detail, allowing you to pay taxes, bill costs, calculate earnings, and more without breaking a sweat. The free Hectic Starter package assists new freelancers by providing unlimited clients, invoicing, and other features. Its Pro plan, which costs $11.99 a month, provides freelancers with client portals, a meeting scheduler, and other features, while its Teams plan, which costs $19.99 per month, is ideal for small businesses or freelancers working together.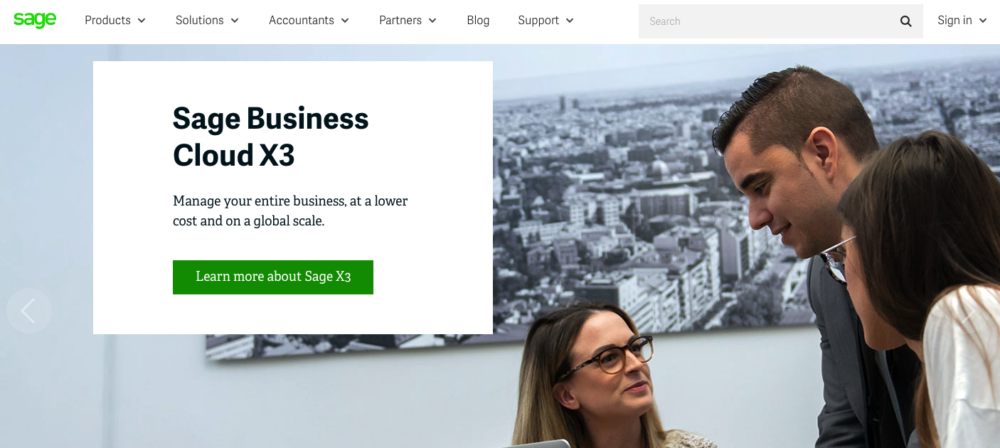 for businesses of all sizes. Features aimed for anytime/anywhere access, collaboration, simplicity, compliance, and security are included in this QuickBooks alternative. Webchat is used for customer service. Sage Accounting Start, the entry-level cloud product, is cash flow management software. Sage Accounting, a more complete alternative for small firms, supports invoicing and accrual entries in addition to cash flow management.


Honeybook is an all-in-one solution for small businesses that includes a powerful customer management system.
They take pleasure in providing complete project tracking from start to completion, which might be a useful tool to have in addition to your financial requirements. Honeybook also features a modern, clean, and simple app that allows you to handle all of your accounting, to-do-listing, and invoicing on the move.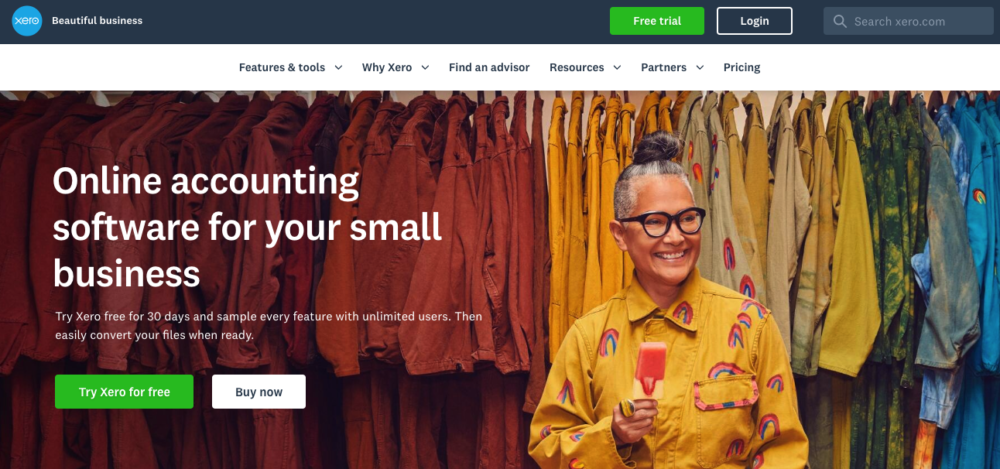 Xero offers a real-time view of your cash flow as well as sophisticated capabilities for small and growing businesses such as invoicing, bill pay, reporting, and more. Xero connects users to financial specialists and consultants such as accountants, bookkeepers, and banks, in addition to providing 24/7 assistance. This QuickBooks replacement interfaces with over 800 business tools, including e-commerce, inventory, and time tracking, to mention a few.
Bonsai is another QuickBooks option that will not disappoint freelancers. According to its website, Bonsai does the grunt work so you may do what you love. Their products provide intelligent automation to save you time and make it simple to get paid immediately. To protect oneself, a couple of highly important aspects of Bonsai are their time-tracking and the ability to email pre-made contracts for e-signature. QuickBooks does not include time tracking, which is essential for many freelancers.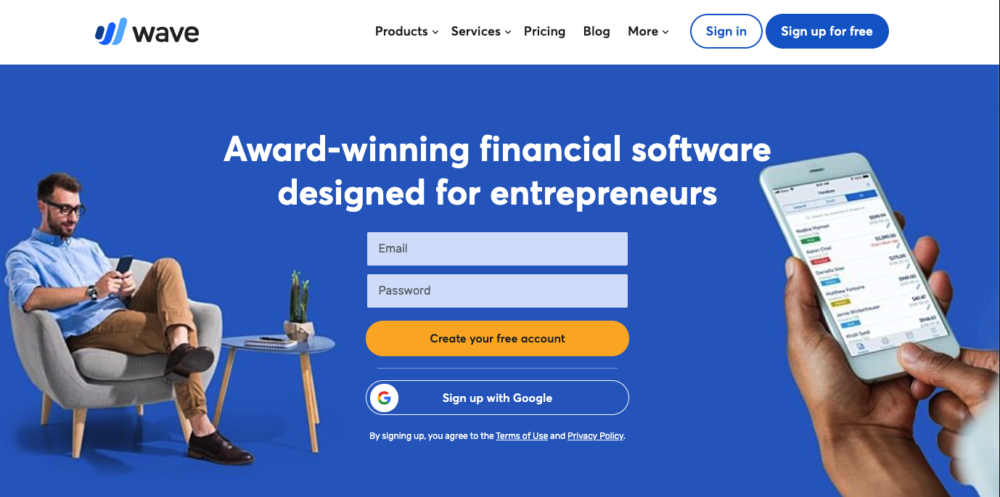 Wave is award-winning accounting software that helps entrepreneurs better understand their finances. This QuickBooks competitor, like ZipBooks, distinguishes out since it is completely free. Wave contains accounting, invoicing, and receipt management tools. Its pay-per-use option provides payment functionality as well as transaction fees based on a percentage for credit card processing and bank payments.
Fiverr Workspace is a freelance programme owned by the prominent freelance job marketplace Fiverr that helps you manage many elements of your business. It includes all of the necessary as well as some extras, such as time tracking, task management, and invoicing and payments.
Kashoo is a straightforward QuickBooks alternative that serves as a bookkeeping solution for small business owners rather than accountants. It supports over 5,000 bank data sources and features an easy-to-use dashboard for real-time business analytics. It offers a 14-day free trial and one all-inclusive subscription tier of $19.95 per month, with capabilities for sending invoices, receiving payments, and making reports.
Odoo, the greatest management software for running a business, is available in two flavours: Odoo Community, which is open source and free, and Odoo Enterprise, which has on-premise (self) hosting or cloud hosting options.
Odoo.sh Cloud is also a full-stack platform for developers. Both the Community and Enterprise editions have essential accounting and invoicing functionality, while the Enterprise edition additionally includes a variety of additional tools for website/e-commerce management, manufacturing, and more.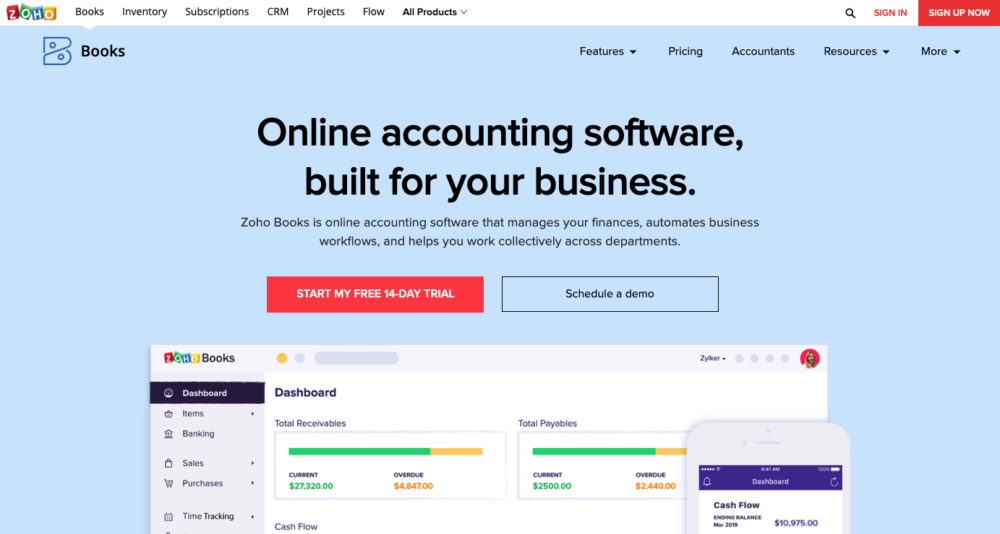 Zoho Books is a QuickBooks alternative that helps small businesses manage their money, automate operations, and collaborate across departments. They offer full-service accounting, including all you need to stay sales-tax compliant. Users can also generate over 50 business reports and combine over 40 apps to create an integrated business platform. Zoho has a per-organization pricing approach with tiers that varies in terms of the number of users, automated workflows, and feature breadth.
SlickPie is a deliciously simple expenditure management programme for small enterprises. It includes basic features such as online invoicing and billing, automatic data entry, live bank feeds, financial reports, and more to assist your business in getting paid faster. The free SlickPie Starter package allows for up to ten businesses to transact. Its paid Pro edition can handle transactions for up to 50 firms.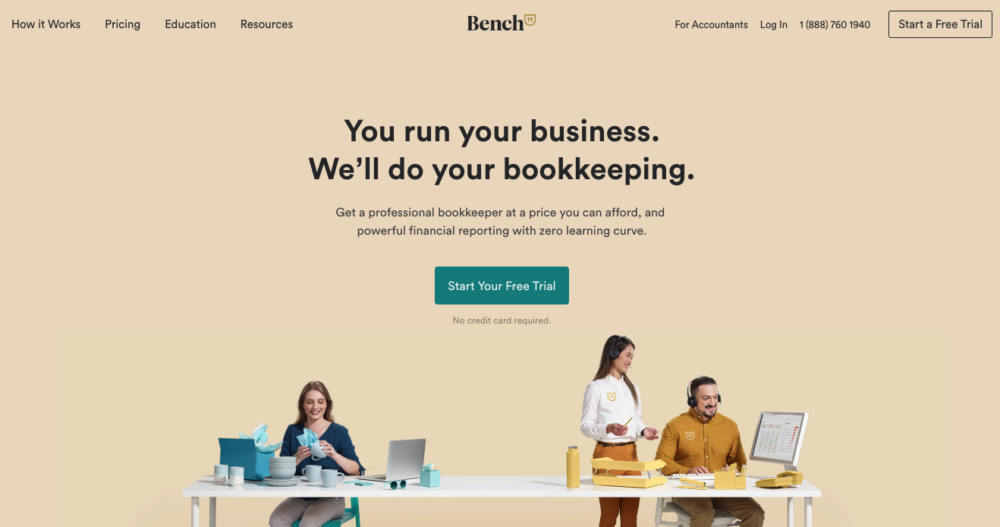 Bench is the largest bookkeeping service for small businesses in the United States. They vary from other QuickBooks alternatives in that they employ proprietary software and have an in-house bookkeeping team that prepares everything for you. You will be assigned a professional bookkeeper who will be assisted by a team of in-house experts, as well as access to financial reporting software. They handle everything from spending categorization and reconciliation to peer-reviewed firm financials and tax assistance. The advantage is that you don't have to bother about installing, learning, or utilising financial software. The disadvantage is that it is more expensive than other solutions.
Check Also : 15 Best Cleaning Service in Brooklyn Companies 2022
Visited 17 times, 1 visit(s) today